Here's the thing about lying as a politician: if you are going to do it, you need to make sure that your lie fits squarely inside other facts that the public already knows. By extension, this means that you have to evaluate what information is out there prior to your lie, and you have to be smart enough to craft a lie that does not fall apart the second someone takes a step back and thinks about it.
In other words, you can't be Maximus Tyrannus Avery.
Following our first two posts on Avery–detailing both his defaulting on nearly a million dollars in business and personal loans as well as his past aggravated-assault charge, allegations of domestic violence, and pulling a gun on his ex-girlfriend's new boyfriend–both Talk Business & Politics and the Arkansas Democrat-Gazette contacted Avery to further elaborate on BHR's initial reporting. Avery's response, at least vis-à-vis the defaulted loans, was that a former employee or employees embezzled money from Bolding Construction, which left Avery unable to pay loans, thereby causing the defaults.
It's the kind of story that seems reasonable…unless you've read the original BHR post and have given even two seconds of thought to the matter. But, to make sure that Avery doesn't follow with every liar's favorite excuse that he was taken out of context, let's go ahead and take the relevant part of both articles piece by piece.
Arkansas Democrat-Gazette, 6/29/22, "Fort Smith candidate for state House confirms debt defaults"
The gist of Avery's explanation to Doug Thompson at the Democrat-Gazette was that Avery had left Bolding Construction's day-to-day operations and, while he signed for the loans, he was not managing the company in a way that would let him realize that someone was stealing company funds. According to the article:
He decided to leave day-to-day management of Bolding Construction Co., one of his businesses, to other employees while he turned his attention to another venture, Avery said. He signed for the loans and is personally responsible along with Bolding Construction, he said and court documents show. Bolding is a home construction company and general contractor based in Fort Smith.

[…]

Avery said he first discovered financial problems in Bolding Construction in late 2019.
Seems reasonable, right? Except, no. No, it absolutely does not. At least not once you plug what he's saying into the timeline that we have already established.
In fact, let's take a look at that timeline, which is covered in our original post as well as in the circuit court's March 23, 2022 order.
July 13, 2018 — Avery (then going by Rodriguez) obtains a $545,000 loan from United Federal Credit Union. According to Exhibit A of UFCU's third-party complaint, payments on that loan were to run from September 1, 2018, until August 1, 2048, at the rate of $2,884.18/month. As collateral, Avery put up his house at 304 S. 14th, Fort Smith, AR.1
January 18, 2019 — Bolding Construction Company obtains a $50,000 line of credit from First National Bank of Fort Smith. According to FNB's complaint, monthly payments to FNB were to start on February 18, 2019, with the final payment of any outstanding balance due on January 18, 2020. As collateral, and despite this being a business loan, Avery put up his 14th St. house (again).
January 18, 2019 — Bolding Construction Company obtains a $150,000 business loan from UFCU. As collateral, Avery/Bolding put up basically all of Bolding's assets and accounts receivable.
May 21, 2019 — Avery obtains a $141,000 home-equity line of credit from UFCU, with monthly payments beginning in June 2019, and the balance due to be paid off by no later than May 25, 2029.
August 18, 2019 — Avery is named to Talk Business & Politics 40 Under 40, wherein he is referred to as the CEO of Bolding Construction, with the article talking about how quickly and successfully Bolding Construction had grown since June 2018, and specifically noting that the company had over $1 million in revenue.
September 23, 2019 — Bolding Construction applies for a line of credit with SRS Distributing, dba Southern Shingles, with Avery signing the credit contract.
October 7 through November 19, 2019 — Bolding purchases $5,910.40 in goods on credit from SRS Distributing, makes only the slightest amount of payment, and defaults on that agreement while owing SRS Distributing $5,627.50.
November 25, 2019 — Avery obtains an $80,000 loan from Forward Financing. This loan does not appear to have been secured by anything.
February 18, 2020 — Bolding Construction and Avery modified the 2019 First National Bank Loan to require interest-only payments from February 18, 2020, until January 2021, when all remaining interest and principal would be due.
April 13, 2020 — Avery/Bolding Construction modify the $150,000 UFCU loan so that the maturity date is extended to June 2020.
June 10, 2020 — Avery/Bolding Construction default on the recently modified $150,000 UFCU loan.
September 2020 — Forward Financing takes Avery/Bolding Construction to arbitration, pursuant to the terms of the November 2019 loan agreement, and is awarded just over $83,000 in arbitration.
September 3, 2020 — SRS Distributing files suit against Bolding/Avery for defaulting on $5,627.50 in owed payments for goods received.
November 2, 2020 — SRS Distributing gets a default judgment against Avery/Bolding, who failed to answer the lawsuit against them, in the amount of $8,081.34
November 20, 2020 — United Federal Credit Union sued Bolding and Avery on the modified $150,000 loan.
May 3, 2021 — First National Bank sued Bolding and Avery, with UFCU joining in that suit because of the July 2018 loan and May 2019 HELOC.
October 2021 — UFCU was awarded $151,112 against Bolding Construction and Avery in October 2021.
March 23, 2022 — UFCU and First National Bank obtain judgments against Avery/Bolding with UFCU awarded $738,161.27; First National Bank awarded $56,945.77; and Forward Financing's claim against Bolding/Avery dismissed.
April 26, 2022 — Avery's Fort Smith home is sold pursuant to court order, and UFCU buys it for $348,000.
May 5, 2022 — The circuit court enters an order confirming the details of the UFCU purchase of Avery's house, and that order includes the instruction that "the Clerk of this Court is authorized and directed to issue proper writs of assistance…directed to the Sheriff of Sebastian County, Arkansas, who shall proceed to place the purchaser in possession of the Property."
June 17, 2022 — Avery still refused to move out of the house that he no longer owns, and UFCU files for a writ of assistance, asking the Sebastian Co. Sheriff to remove Avery from the home.
To account for all of this, Avery told the Democrat-Gazette, in effect, that he was not running Bolding Construction's day-to-day business during this time period, that he later realized that an employee (?) had stolen money from Bolding's account, and that he reported this to the police. He even provided the paper with a copy of the police report that he filed.
As luck would have it, we also have a copy of that police report, as well as a copy of the supplemental entries that the FSPD made on the report, so let's take a look at that.
According to the police report, Avery came to the Fort Smith PD on November 1, 2019, alleging that Justin Guenther had stolen a total of $85,300 from Bolding Construction's checking account, in the following amounts: $5,900 on 4/5/19; $10,000 on 5/7/19; $16,400 on 5/24/19; $26,000 on 6/19/19; $15,000 on 8/16/19; $12,000 on 8/30/19. This, Avery contended to the Dem-Gaz, was why he defaulted on several hundred thousand dollars in business and personal loans.
Except…look at those dates. The entire $85,300 that Avery contends was stolen from Bolding occurred between April 2019 and August 2019. We also know that he obtained an unsecured $80,000 loan in November 2019, just a few days after reporting the alleged theft to the FSPD. If that $85,300 that was missing from Bolding's business account was really what was keeping him from being able to keep all of his other loans current, the $80,000 loan from Forward Financing on November 25, 2019, would have basically solved that problem. Bare minimum, that November 2019 loan would have put Avery back in roughly the same place that he would have been without any alleged theft having occurred. Which, essentially, means that blaming the theft for his defaulting on his mortgage, HELOC, and multiple loans is nonsensical at best.
Additionally, recall that he bought a Lamborghini in February 2019, just days after getting the $200,000 in business loans from UFCU and First National.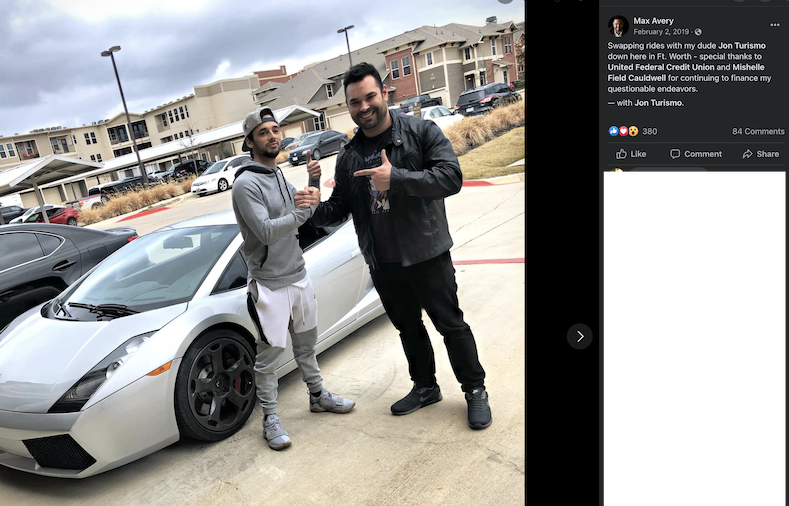 According to tax records, that is a 2004 Lamborghini Gallardo. We can get a decent guess as to what he paid for a 2004 Lambo in 2019 by looking at what a 2007 Lambo would go for in 2022. Carfax lists quite a few, and all seem to go for between $110,000 and $135,000. If we account for inflation and the craziness in the car market these days, a conservative guess for what Avery paid for his 2004 Gallardo in 2019 would be between $90,000 and $100,000.
You know what hasn't been the subject of a loan-default lawsuit or a repossession action against Avery? That 2004 Lamborghini. Which means either (a) that he has continued to pay the note on that car, even as he risked losing his home by defaulting on other, more important loans or (b) he paid for the Lambo in full when he bought it in 2019. If it's the first answer, Max Avery is quite literally the dumbest human being who has ever lived; if it's the latter, then maybe spending $100,000 on a used compensation device in February 2019 was a bigger factor in defaulting on all of those loans than having $85,300 taken from your company between May and August 2019 was.
Bare minimum, if we're to believe that the $85,300 loss was the cause of his problems, we should all ask whether that loss would have been such a problem had he not purchased that car in the first place. We might also ask why, if the car was worth about $100,000, he did not sell it immediately upon realizing that an $85,300 shortfall from his business account could cost him everything he owned.
But–and that is a Kardashian-sized but–here's the thing: Avery's excuse to the Democrat-Gazette is even less believable if you look beyond the Lambo and alleged theft. His story hinges entirely on the assertion that, by the time the alleged thefts began taking place in April 2019, Avery was no longer running Bolding Construction and was focusing on his CDL training business. This is absurd.
The thefts, again, allegedly occurred between April 2019 and late August 2019. $58,300 of the total was taken between April and the end of July. August 2019 was when Avery was named to Talk Business's 40 Under 40, wherein he was listed as the CEO of Bolding Construction–a company with over $1 million in revenue!–and talked about wanting to expand Bolding Construction into other states. The CDL business was mentioned purely as a fledgling new venture that Avery had recently added to his plate. It defies all logic to suggest that, from April to August 2019, Avery was not still running Bolding Construction. Just look at some of his social media from that time period:
On top of which, his own actions demonstrate that he still had day-to-day control over Bolding Construction. The September 2019 credit contract with SRS Distributing? That was Bolding Construction's line of credit, and Avery was the one who signed the paperwork to obtain it. The $80,000 loan from Forward Financing in November 2019? It was Avery who executed the paperwork for that loan for Bolding Construction as well. The February 2020 modification of the First National business loan? Avery handled that in his role as President of Bolding Construction. Ditto that for the April 2020 modification of the UFCU business loan.
Not to mention, even if you assume that maybe Avery was a bit more hands off with Bolding as the CDL training school began to grow in the summer and fall of 2019, Avery was still undoubtedly aware that his house was collateral for hundreds of thousands in loans that Bolding Construction still had to pay. With that much on the line, you would have to be an absolute imbecile to walk away from "more than $1 million in revenue" and pay so little attention to that company's finances that he had no idea that money was missing or that loans weren't being paid. On the other hand, if you were still paying Bolding Construction's loans from personal funds, while paying no attention to Bolding's books, you are also an imbecile.
In short, no matter how you look at it, there's no good way to spin the idea that he just stopped paying attention to the company that was responsible so much debt and collateral in Avery's name. It's either a ridiculous lie that he hopes voters will believe, or it's an admission that he's one of the dumbest people you are ever going to meet. That ain't much of a campaign message.
Avery also told them Democrat-Gazette that he was working on it and would repay the loans.
Avery will repay the loans, he said.

"I just can't pay everyone at once. It did happen, and I take full responsibility," Avery said
If that were true and Avery had made arrangements with the various creditors to repay these amounts, that would be interesting. Mainly because, as already noted above, UFCU foreclosed on his house, bought it out from under him, and filed a writ of assistance on June 17, 2022, asking the Sheriff to remove Avery from the home so that UFCU could take possession. That writ of assistance specifically states, "Whereas the person or persons occupying the real property described herein have failed or refused to surrender possession of same to the true and rightful owner, [UFCU]," and "you are commanded to take possession herewith of said lands from any and all occupants and possessors of same and to deliver possession of said property to [UFCU]."
That doesn't sound to me like a creditor who is working with Avery or waiting on him to slowly repay defaulted loans. That sounds like a creditor who wants him evicted from the house that he has not owned since April 2022.
Finally, with respect to the Dem-Gaz article, we have this:
HE PROVIDED A COPY OF A REPORT HE FILED WITH THE FORT SMITH POLICE DEPARTMENT DATED NOV. 1, 2019. AVERY CLAIMED AN EMPLOYEE OF BOLDING HAD WRITTEN AT LEAST SIX CHECKS FOR A JOB A DIFFERENT COMPANY WAS WORKING ON. THOSE CHECKS TOTALED $85,000 AND WERE JUST THE FIRST OF WHAT HE FOUND, AVERY SAID. HE DROPPED THE COMPLAINT TO THE POLICE AND ANY CIVIL COURT ACTION AFTER DETERMINING THERE WAS NO WAY THE MONEY COULD BE RECOVERED AND THE EXPENSE OF A NECESSARY FULL FORENSIC AUDIT WOULD BE THROWING GOOD MONEY AFTER BAD, HE SAID.
Well, that's certainly one way to put it. Another way–a more accurate way–might be that he just stopped trying to work with police on recovering the money and that he is now retroactively justifying that by pretending like it was a business decision.
Remember that police report that he filed in November 2019? Well, in the supplemental notes to that report, we get the rest of the story. For instance, on November 20, 2019, FSPD Ofc. Bradley Jones met with Avery to discuss the alleged theft from Bolding Construction, at which time Avery told the officer that he would "get to working on compiling all the needed items and get back with [the officer] when they were ready." Fair enough, I suppose.
But then, on January 8, 2020, Ofc. Bradley Jones noted that Avery had not provided any additional information, despite stating that he would, so the case was cleared. Nothing in the supplemental notes says anything about any determination that the money could not be recovered. In fact, considering that the person Avery accused of stealing the money runs his own construction company in Northwest Arkansas, it seems plausible that at least some of the $85k could have been recovered.
At the very least, it seems like, if one's options are (a) press charges and try to use the fact that employees stole from you to get some leeway in your loan payments so that you don't lose your home or (b) baselessly determine that you can't get the money back, so let the chips fall where they may, any normal person is going to pick (a).2
That whole "the expense of a necessary full forensic audit" excuse is also without merit. First, it's not even clear why he would need a forensic audit. If the police/prosecutor felt that one was necessary on the criminal side, that is something that they would arrange and pay for; if Avery was talking about needing such an audit for a civil suit against the alleged thief, a small-business forensic audit would likely run him somewhere between $3000 and $7000. But his refusal to spend less than $10k to recover over $85k is even more absurd than it seems due to Arkansas Code Annotated 16-118-107.
That statute allows someone who has been the victim of conduct that would be a felony under Arkansas law bring a civil suit against the person who committed the actions. Since it is a civil suit, the burden of proof is only preponderance of the evidence, not beyond a reasonable doubt, and the statute specifically allows a plaintiff who prevails in such a lawsuit to recover both attorney's fees and costs.
You have the cancelled checks that you have already shown to police. You have the identity of the person who you are sure stole the money. You know this alleged thief has a construction company that has assets. And you have a statute that would allow you to recoup both the cost of this forensic audit that you claim you would need as well as your attorney's fees.
It's hard to imagine a more straightforward, slam-dunk lawsuit than what Avery had in front of him.
Why, then, would he stop communicating with police and not pursue the money at all, even when his house and business and assets were on the line? It certainly wasn't cost. Putting on my lawyer hat for a minute, I can only think of a few possible answers: 1. He was told that he would have to provide information in discovery in the lawsuit, including banking information, and he had some reason to not want that information to get out; 2. He got bad legal advice from a lawyer who was unfamiliar with the crime-victim civil-suit statute; 3. The "theft" was not nearly as clear cut and indisputable as he made it sound to the Fort Smith Police Department; 4. The alleged thief had some information or potential counter-claim against Avery that made a lawsuit too risky.
I dunno. Pick one of those, I guess. Any of them are more believable than "tHe FoReNsIc AuDiT cOsTs ToO mUcH!"
Talk Business & Politics, 6/28/22, "Legislative candidate faces financial troubles, denies domestic disturbance details"
Avery did not limit his explanations to the Democrat-Gazette, of course. On June 28, Talk Business & Politics also had an article with reaction quotes from Avery regarding the initial reporting by BHR. According to that article:
"I HAVE EVERY INTENTION TO PAY ANYONE THAT'S OWED MONEY. IT'S UNFORTUNATE, BUT BASICALLY, I HAD SOME INDIVIDUALS TAKE A BUNCH OF MONEY AND RUN UP A BUNCH OF CREDIT IN MY NAME AND I GOT LEFT HOLDING THE BAG," AVERY SAID.
For the reasons outlined above, we know this is a gross, dishonest oversimplification of what really happened. This buck-passing and failure to own up to his own actions is part-and-parcel of Avery's personality, however.
HE ALSO SAID HE WAS ADVISED IT WOULD COST TOO MUCH MONEY TO PURSUE PROSECUTION AGAINST THOSE WHO STOLE FROM HIM SO HE DROPPED THE ISSUE AND MOVED ON.
This is the dumbest thing you will read all week. It would not have cost Avery a dime to pursue prosecution against the alleged thieves. The prosecutor's office does not make the victim pay for prosecuting someone, and there's no scenario where Avery's comment here makes even a tiny bit of sense. It's a lie, and it's not even a believable lie.
Avery said he paid First National Bank $10,000 "a couple of weeks ago" and is making payments to the bank with a new plan that is to begin July 1. He also said he continues to make payments to UFCU.

"We're making payments to them (UFCU) like normal. It's just behind at the moment, but they're basically negotiating how they want to move forward with it," Avery explained.
"Making payments to [UFCU] like normal" is a strange way to phrase this, considering it was the ongoing failure to make any payments that led to UFCU suing him, foreclosing on his house, and taking ownership of the house at the foreclosure sale. Even after the offset for the purchase price of the house, Avery still owes UFCU roughly $390,000. I suppose he could be making payments to them on that remaining amount, but spare me the "making payments…like normal" stuff when you restructured one of their loans in April 2020 to buy yourself a few extra months and then defaulted on the loan regardless and did not make payments for several months.
Regarding the domestic-violence allegations contained in our second post, the Talk Business article continued:
In Tuesday's (June 28) interview with Talk Business & Politics, Avery initially said the charges were dropped and he became involved in a fight to protect Sarah, a former girlfriend from her boyfriend at the time. Avery said Sarah called him for his help. But the charges weren't dropped, and the police report disputes Avery's version of the story.
One of the best things in the world is when someone gives their version of what happened before they realize that you have documents that directly contradict what they are saying. Avery's account is, as you already know, absolutely false.
The police report from that incident makes clear that Avery showed up at his ex-girlfriend's house without being asked, forced his way into the home, began punching his ex's new boyfriend in the face, then went outside and pulled a gun from his car. Both Avery's ex and her boyfriend at the time gave the same version of events when interviewed by police.
Nevertheless, despite being told that the police report said otherwise, Avery was still not willing to acknowledge anything.
When pressed for a yes/no answer on if he pointed a gun at anyone during the disturbance, Avery said, "No. To my recollection, no."
Oh, not to his recollection? Well that puts us in quite a pickle, since Max is saying one thing and the other folks involved are saying something else. If only someone at the scene had videoed this whole thing…
That's the responding officer writing, after looking at video of the incident, "You can then see Sarah come into view by Max who is now opening the door to his vehicle" and "You can then see Sarah take off running and Max turn around with a black handgun."
Man, either Max Avery is intentionally dishonest about everything and unwilling to ever admit that he might have made a mistake, or he has pulled a gun on so many different people that they all sort of run together, leaving him unable to recall who he did and did not pull a gun on in any given situation. I genuinely don't know which answer is worse.
***
Despite all of this, Avery continues to act as if nothing is wrong and his campaign continues apace. He is, essentially, hoping that the voters of District 49 will vote for a perpetually dishonest failed businessman with a history of domestic violence.
The fact that he could be right is all sorts of depressing.
***
If you like what we are doing here and find Blue Hog Report to be a valuable part of Arkansas politics, please consider subscribing to our Patreon page.
---
This appears to be a standard mortgage, though he said he closed on the house in December 2017, so the original purchase money for the house is not clear. Maybe there was some kind of bridge loan of some sort?↩

Again, I think it is worth mentioning that Avery got an $80,000 unsecured loan for himself and Bolding Construction in November 2019, so if the theft from his company was the only thing keeping him from paying his loans, he should have been able to cover that and prevent literally all of this.↩