[Content warning: The following contains references and some descriptions of sexual assault against children. –ed.]
As a general rule, any time I write a post about a new town, county, or person, somewhere between five and twenty people that I've never spoken to in my life will suddenly reach out with additional "information" to share with me about the subject. The overwhelming majority of the time, maybe one in ten of these unsolicited tips results in something that I can locate, confirm, and write about.
Following the previous post about Jana Bradford's protection of her child-rapist uncle and illegal campaign financing, the number of tipsters was much closer to twenty than five. More importantly, as I've been wading through the information that has flowed in, I've noticed that what the person has told me is frequently also something that can be tracked down and confirmed through official records.
I guess that's the danger of using your position as a deputy prosecutor to protect some very terrible people: the legal profession creates a paper trail out of necessity, so there is only so much you can do to hide your involvement and/or misdeeds.
***
Let's talk about Ryan Nutt.
Ryan Nutt is a convicted murderer who was sentenced to 30 years back in 2012, and he was released on parole in 2022 in his fourth year of parole eligibility. I won't recount the details of the murder that Nutt was convicted of; if you're interested, you can read them here.
As you might expect, this murder was not Ryan Nutt's first experience in the criminal justice system. According to a website put together after his murder conviction, it appears that Nutt had a documented history of battery and assault, as well as allegations of rape. (Unfortunately but understandably the rape went unreported specifically because Nutt threatened the victim, who lived in Pike County at the time, not to tell anyone, and she was terrified of him.)
Of particular note, however, are Nutt's violent crimes between 2004 and 2007.
In March 2004, Nutt was charged with Domestic Battery, a Class A misdemeanor in Pike County District Court. According to the affidavit of arrest, on March 28, 2004, Nutt was arguing with his girlfriend at the time, and she asked him to leave, which he refused to do. She pushed him out the door and and turned to pick up her 2-year-old child and walk back in the house. At that point, Nutt grabbed her by the arm and hair and shoved her back into the house before fleeing. When police arrived, the responding officer noted marks on the victim's arm and the back of her head. Nutt pleaded not guilty, was found guilty following a bench trial on June 15, 2004, and was was ordered to pay $450 in fines, costs, and fees.
Less than a year after being found guilty of domestic battery in Pike County, Nutt was arrested and charged with Domestic Battery-3rd Degree (Second Offense), a D felony, in May 2005 in Clark County Circuit Court.1 The file in that case states that Nutt and his wife2 got into an argument while drinking, and he told her to leave their house. When she did not leave–because she did not have a car–Nutt grabbed her by the hair and yanked out a clump that police later noticed on the couch. Nutt then took a knife and began stabbing and slashing at their bed, before throwing the knife at his wife and then punching her in the face. He threw her out of the house and continued vandalizing the place until shortly before police arrived.
On November 7, 2005, Ryan Nutt pleaded guilty to the felony charge in Clark County and was sentenced to three years of probation.
Ryan Nutt was still on probation from the Clark County domestic-violence conviction on the morning of April 7, 2007, when he pulled into the parking lot of the E-Z Mart in Glenwood, AR, between 4AM and 5AM. Nutt and another man waited in that parking lot until Christopher Golden exited the store. Johnny Cox, the E-Z Mart employee on duty at the time described to Glenwood police what happened next:
[Cox] told me that he heard the telephone ringing and answered it. The caller told him not to call the cops and to look outside. When Mr. Cox looked outside, he saw an unknown suspect with the telephone. That suspect hit Mr. Golden with his fist on the left side of [Golden's] face. Mr. Cox said that the other suspect, [who] he identified as Mr. Ryan Nutt, had a long cylinder shaped object in his hand similar to a bat or a piece of pipe. Mr. Cox said that Mr. Nutt swung the object in a downward motion toward Mr. Golden's head. Mr. Cox said that [Nutt] swung it with so much force that, after striking Mr. Golden's head, it continued toward the pavement of the parking lot, bouncing off of it.
On April 27, 2007, based on the statements of the victim and the witness, Nutt was charged in Pike County Circuit Court with Battery-2nd Degree, a Class D felony, under Ark. Code Ann. 5-13-202(A)(2), which states: "With the purpose of causing physical injury to another person, the person causes physical injury to another person by means of a deadly weapon other than a firearm."
Importantly, this case against Ryan Nutt was assigned to Deputy Prosecuting Attorney Daniel H. Graves.
Nutt was arrested on April 20, 2007, and he was arraigned on May 7, at which time a public defender was appointed. DPA Graves responded to Nutt's discovery requests on May 15, 2007. Graves issued subpoenas through July 2007 and sent supplemental discovery responses to the defendant's attorney on August 3, 2007. When a new attorney entered his appearance on Nutt's behalf, a copy of the motion was sent to Graves on September 11, 2007.
When the state sent a new motion for discovery to Nutt's then-current lawyer on October 1, 2007, it was DPA Graves who signed and sent the motion. Graves sent a letter to the clerk's office on October 4, asking for a subpoena to be issued to a witness for the trial that was set for October 23, 2007. On October 19, 2007, four days before the trial was set to begin, Graves filed a motion for continuance, which was granted, and the trial was reset to December 11, 2007.
Curiously, even though the trial that had been set for October 23, 2007, had been continued until December 11, Ryan Nutt still showed up in court on October 23.
Why is this curious? Because, according to court records, October 23 was also the first time that Jana Bradford's name appears anywhere in the record on this case. And on October 23, with Deputy Prosecutor Jana Bradford standing in for Deputy Prosecutor Daniel Graves, the state made an oral motion in open court to reduce the charge against Nutt from Battery-2nd (a felony) to Battery-3rd (a misdemeanor). Nutt pleaded guilty to that reduced charge on October 23, 2007, and he was sentenced to 60 days in county jail and one year's suspended sentence.
So, to recap, just so we can be 100% clear about what happened here:
Ryan Nutt pleaded was found guilty of two domestic battery charges within an 18 month period in 2004 and 2005, resulting in his being a convicted felon on probation for three years starting in November 2005.
In April 2007, less than halfway through his period of felony probation, Ryan Nutt beat a man in the head with a metal bat at 4AM in a public parking lot, in front of an eyewitness.
Nutt was (correctly) charged with felony battery for the April 2007 beating, and the prosecutor assigned prepared to try it as a felony from the very beginning.
After the trial was continued a mere four days before it was scheduled to begin, Jana Bradford suddenly enters the picture, makes an oral motion to reduce the charge to a misdemeanor, and lets Nutt plead guilty to the reduced charge, resulting in a mere 60 days in county jail for hitting a man in the head with a bat while already on probation for felony domestic battery.
It gets worse. Once Nutt was charged in Pike County in 2007, the state filed a motion in Clark County to revoke Nutt's 3-year probation. While it's impossible to say how everything would have played out absent Bradford's 11th hour involvement in the Pike County case, as of the date that the revocation petition was filed in Clark County, Nutt was looking at a possible 6 years in the ADC in Pike County and up to 6 years in Clark County as well.
After Bradford reduced the Pike County charge to a misdemeanor on October 23, 2007, and Nutt received only 60 days in jail on the misdemeanor, he was subsequently allowed to plead guilty on the revocation petition in Clark County, for which he was given an additional 30 days in county jail to run concurrent with the 60 days out of Pike County.
In other words, in early October 2007, given his criminal history and the probation revocation hanging over his head, Ryan Nutt faced the real possibility of nearly 12 years in the Arkansas Department of Correction. Thanks to Jana Bradford's getting involved in the Pike County case, Nutt ultimately received only 60 days in county jail.
The irony here, of course, is that Ryan Nutt murdered Chris Palmer on September 11, 2011, less than four years after Jana Bradford reduced his 2007 charge and kept him out of prison. If Nutt had been found guilty of a felony charge in 2007 (and the probation revocation unfolded in accordance with a felony conviction, rather than a misdemeanor guilty plea), it is entirely possible that Ryan Nutt would still have been in prison on September 11, 2011, and Chris Palmer would still be alive.
***
It dawns on me that, reading all of that above, a generous person might think that Bradford was just doing what she thought was appropriate as a deputy prosecutor, and she was not intentionally helping out Ryan Nutt. That explanation quickly falls apart under closer examination, however.
First, again, we're talking about a convicted felon who was on probation for felony domestic battery and was charged with Battery-2nd because he beat an unarmed man in the head with a baseball bat. I can't think of another prosecutor in this state who, in those circumstances, would jump into a case six months after it was filed as a felony and immediately reduce the charge to a misdemeanor.
Second, and much more damning for the pro-Bradford crowd, Ryan Nutt bragged about how Jana Bradford would help him, even during the 2011 murder investigation.
The first officer to respond to the report of a stabbing on Baker Rd. on September 11, 2011, was Ofc. Shona Jordan of the Glenwood Police Department. In filling out her report after the fact, Ofc. Jordan wrote, in pertinent part:
There was another man beside [the victim], holding pressure on the wound on the man's leg. I asked him who he was [and] he said, "I'm the one who stabbed him." […] I told him to continue to hold pressure on the leg. He stated his name was Ryan Nutt and that he was the nephew of Jana Bradford and he would have my badge.
I dunno. I could be alone here, but I don't think someone name-drops a podunk deputy prosecutor to the first officer on the scene of a stabbing unless that someone has reason to think that the podunk prosecutor could and would help him out.3 And, taking that a step further, I have a really hard time believing that he would think she would help him if she hadn't already done so in the past.
***
Which brings us back to Bradford's work on behalf of her uncle, child rapist Barry Walker.
In the previous post about Bradford/Walker, I wrote about how Bradford had filed a petition on Walker's behalf in 2018, seeking to have Walker removed from the sex-offender registry. Regarding the circumstances as Bradford knew them to be in 2018, I wrote:
On top of which, Bradford absolutely knew–or should have known with reasonable effort–that a search warrant had been issued in Clark County in 2014 for Walker's property on Sugarloaf Rd. in Amity. This warrant was issued by Clark County District Judge Randy Hill after a 4-year-old girl told her parents that Walker had touched her inappropriately, according to the August 4, 2022 issue of the Southern Standard.
That Southern Standard article noted that no charges were filed against Walker following the 2014 search warrant because investigators could not "fully substantiate" the 4-year-old victim's allegations, but that the timeline of the allegations does seem to match up with one of the juveniles that Walker raped and was subsequently given a life sentence for.
Even when writing the first post, it seemed that Bradford would have been aware of the 2014 search warrant. Small towns rarely let something like that occur without comment. But…what if I told you that Jana Bradford's intentional acts are part of the reason that those allegations could not be fully substantiated in 2014?
Let's go back a bit, just for clarity.
In April 2014, C.T. was the 4-year-old daughter of Tami Steadman. Steadman, for reasons unimportant here, was incarcerated in Mississippi, but she was a former resident of Pike County, Arkansas. At the time, C.T. was living with Steadman's sister, Lori Cogburn, in Pike County.
On April 24, 2014, Kenneth Taylor filed for a judgment of paternity in Garland County Circuit Court, alleging that he was C.T.'s biological father, that he had acted in the capacity of C.T.'s father for years, that Ms. Steadman was in jail and unable to take care of C.T., and that Taylor should take custody of C.T. after paternity was entered.
On May 6, 2014, the Circuit Court entered an order, establishing Kenneth Taylor as C.T.'s biological father. That same day, Taylor picked up C.T. from Lori Cogburn's house.
Right about here is where I should probably mention that, as of May 6, 2014, and for years before and after that date, Lori Cogburn was Barry Walker's girlfriend.
Less than two weeks after Mr. Taylor was granted custody and declared to be C.T.'s biological father, C.T.'s grandparents, Earl and Gelinda Martin,4 filed a motion to intervene in the Garland County paternity case. They were represented in this matter by Jana Bradford.
The contents of the motion to intervene in that case and the motion to set aside the order are only noteworthy because of how poorly they are drafted. They failed to specify any valid legal purpose for which the Martins should be named guardian of C.T. They also failed to assert anything fraudulent that had been presented to the court that would have warranted setting aside the paternity order. And they failed to show anything to support any allegations that Kenneth Taylor was not the proper person to have paternity and custody of C.T. Following a hearing on July 8, 2014, the court denied the motion to intervene and the motion to set aside the paternity order.
On July 7, 2014, the district court judge in Clark County signed a search warrant for investigators to search Barry Walker's Amity home for evidence that he had sexually assaulted C.T.
Just over three weeks later, on July 29, Jana Bradford had Barry Walker take a polygraph examination given by a retired police officer in Texarkana. And if you've ever wanted a great example of why polygraphs are junk science and should be discarded completely in the criminal-justice community, just take a look at this report: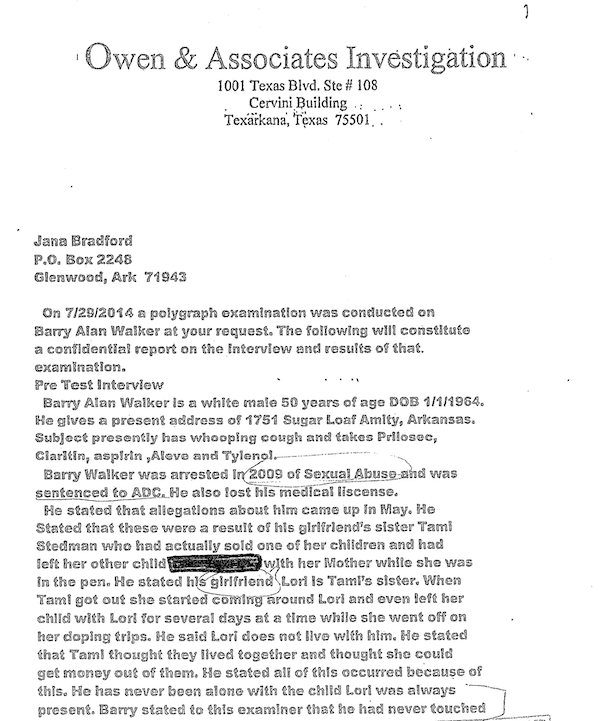 Now, keep in mind, this is a polygraph specifically about allegations to which Barry Walker has subsequently pleaded guilty and been sentenced to life in prison. Polygraphs are dubious at best,5 and this one is demonstrably meaningless even by polygraph standards.
Not that Jana Bradford would let something like bad science stop her from working on behalf of Barry Walker.
On August 1, 2014, after the search warrant had been executed and before the Clark County Prosecuting Attorney made a decision on whether to charge Walker, Bradford sent the prosecutor a letter in an attempt to prevent Walker from being charged. Worse still, she lied about the facts of the paternity/custody case that she had handled for Lori Cogburn's parents in an effort to discredit the 4-year-old victim.
That letter is…certainly something. Just hitting the highlights, we have Bradford:
With the audacity as a deputy prosecutor to think that (a) submitting your own polygraph should carry any weight in a charging decision and (b) it is remotely appropriate for her to reach out to another prosecutor and try to sway the charging decision in the first place;
Admitting ("As we discussed previously…") that Bradford had been reaching out to the prosecutor multiple times, telling her version of what happened in an effort to influence the charging decision;
Lying about the facts of the paternity/custody matter, with statements like "surreptitiously obtained custody of the minor child," which she knew was false, and mentioning that she had "filed Motions to Intervene" without acknowledging that her motion had already been denied by the same court that granted paternity/custody to Mr. Taylor;
Continually trying to minimize or deflect from Walker's horrific acts with comments like "Based on what little has been reported to me, the allegations against Mr. Walker did not take place until almost a month after the child was stripped from her grandparents" and suggesting that Mr. Taylor told the minor child to make these allegations.
Worst of all in this letter, however, is this:
The truth is that Mr. walker has never been alone with [the minor]. In fact, he has only been around her about five (5) times.
According to the criminal information in his 2022 charges, as well as the civil lawsuit against him, Barry Walker began raping C.T., who was four at the time, by March 23, 2014, at the latest. We know that it happened on March 23, 2014, because Walker recorded his acts on that date, and he pleaded guilty to that charge along with all of the others. And we even know some specific, unsettling details:
Barry Walker raped this child from the age of two until the age of four. When his acts came to light, Deputy Prosecutor Jana Bradford's response was to accuse the four-year-old victim of lying.
If that last sentence doesn't make you blind with rage, there's another wrinkle that might.
***
According to the timeline presented in the multiple 2022 criminal charges, as of August 1, 2014, when Jana Bradford sent a letter to the prosecutor to try to prevent Barry Walker from being charged, there were at least nine girls who Barry Walker had not yet raped but who he would subsequently rape before finally being charged and convicted. There was at least one more girl who Walker had previously raped and would rape again after August 1, 2014.
That is at least ten girls who likely would not have been sexually assaulted by Barry Walker between August 2014 and June 2022 if not for Jana Bradford's efforts to prevent Walker from being held accountable for C.T.'s allegations in May 2014.
Chris Palmer murdered and nearly a dozen children raped. Multiple families hurt and grieving and dealing with the long-term trauma that such horrible crimes cause. And all of it likely would have been avoided if not for Jana Bradford.
***
If you like what we are doing here and find Blue Hog Report to be a valuable part of Arkansas politics, please consider subscribing to our Patreon page.