Home
Tags
Leslie Rutledge
A look at the "then what?" of five BHR stories from 2014.
Leslie Rutledge said her coordination with an outside group was legal. The Ethics Commission apparently does not think the answer is so clear-cut.
On more than one occasion...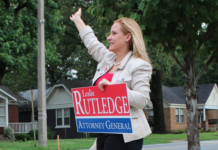 Over the past couple of w...
Sen. Elliott explains exactly what the issue is with Leslie Rutledge's sharing of a racist email.
ARGOP Attorney General Candidate Leslie Rutledge sending out some racist humor at the expense of a poor family. Classy.