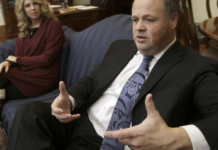 Legislative Audit's Report on Mark Darr, Mark Martin's FOIA hearing, Mark Darr's Ethics hearing, and Chad Niell's huge waste of money. Good times!
Democrats Baker: $10.88 Rockwell: $37.28 Kidd: $28.00 Roebuck: $31.34 Republicans Cooper: $15.75 Sullivan: $31.75 Niell: $99.26
Chad Niell & Co. said the prior stories were nothing. The Securities Commission disagreed.
Chad Niell's campaign manager said the previous post was full of errors. Spoiler: It wasn't. But Niell's statement about it was.
One of the Republican ca...