At this point, after a series of posts on just what a mess the conception of planning of LITfest was, it will likely surprise no one to learn that there are additional questions that still need to be answered about the whole thing. What does the contract/MOU/agreement between the city and the nonprofit that was receiving sponsorship funds looks like? (We don't know because the city has refused to provide that record.) Who approved that agreement to send money to the nonprofit, in violation of the contract between the city and Think Rubix? How much sponsorship money came in or went out of that nonprofit? What, if anything, would Mayor Frank Scott Jr. do differently next time that would avoid the blatant illegality that scuttled this year's attempt?
These are all things that have answers, but those answers have not been provided by the city, despite multiple efforts to obtain them.
The more I think about this whole situation, however, and the more I look through the documents that have actually been produced, the biggest lingering questions that I keep coming back to all relate to City Director Antwan Phillips. Specifically, I would be curious to know:
Why was City Director Antwan Phillips directly involved in the negotiation, planning, and contract drafting for LITfest when the rest of the board was intentionally left in the dark?
Why did Phillips say nothing to the Board of Directors about the obviously improper diversion of sponsorship funds to an unregistered charity?
If Phillips was involved in the LITfest planning and development for the city, why did he also function in the capacity of Think Rubix's lawyer when the city received an AFOIA request for LITfest-related records held by Think Rubix?
***
There is, admittedly, a lot to unpack just in those three questions. So, for the sake of clarity as we move forward, let's start with recapping a few things that we should all be able to agree on. For instance, there is no disputing that Antwan Phillips is an elected City Director for the City of Little Rock, and he has held that position since January 2021. Likewise, I assume we all understand that Antwan Phillips is not an employee of the City of Little Rock–he does not report to the mayor, the city manager, or any City of Little Rock department head, and his role in the day-to-day business of the city is no different than that of any other City Director.
While LITfest as part of the zeitgeist is a bit of a touchy subject lately, I trust that no one seriously disagrees with the following: (1) LITfest was an event that Mayor Frank Scott wanted the City of Little Rock to create and put on; (2) Little Rock issued a Request for Qualifications in January 2022 to try to find someone to help create LITfest; (3) Think Rubix was the only company to respond to that RFQ and was selected as the winner by the city; (4) Mayor Scott entrusted Chief of Staff Kendra Pruitt as the point person when it came to negotiating the contract with Think Rubix and when it came to working with Think Rubix to plan LITfest generally; (5) Pruitt and the city wanted to keep the contract with Think Rubix under $50,000 on its face explicitly so that the contract would not be subject to any review by the Little Rock Board of Directors.
Finally, though it may not be as much a part of the common knowledge as some of the stuff above, I don't imagine anyone would dispute that Antwan Phillips is an attorney, licensed in Arkansas, and a partner at Wright, Lindsey & Jennings in Little Rock. As such, he is subject to the Arkansas Rules of Professional Conduct, and he will generally be assumed to understand the law as well as, or better than, a lay person.
***
Based solely on the information above, a person might conclude that Phillips, like the other nine members of the Little Rock Board of Directors, would not have had much of a hand in LITfest. After all, Vice-Mayor Lance Hines certainly was not kept in the loop as far as LITfest planning and how sponsorship money was being used. Director Joan Adcock was not informed about what was happening until after City Manager Bruce Moore canceled the contract between the city and Think Rubix.
In the abstract, the directors' lack of information about the LITfest planning makes perfect sense, too. Because–again–Kendra Pruitt said out loud that the contract needed to be under $50,000 specifically to prevent the board from having any say in the matter. Or, as she put it: "I don't know that we want to go before the Board on what they would maybe deem [as] us throwing a party."
Yet, while nine members of the Board of Directors were in the dark as far as planning and contracting went, Director Antwan Phillips was decidedly not.
You might recall that the contract between Think Rubix and Little Rock was signed by the city manager on June 9. Even before that date, however, Kendra Pruitt was keeping Phillips apprised of everything that was happening. (Did she do this through his Wright, Lindsey & Jennings email address? Of course she did.) (Will that fact come back and be even more relevant before the end of this post? Oh, you know me so well, baby.)
On May 20, Pruitt reached out to The Hall to get them up to speed. That email went to Josh Billue with Marathon Live (who was doing venue management for The Hall), Durwin Lairy with Think Rubix, Scott Carter with the City of Little Rock, and Antwan Phillips at his day-job email address.
Also on May 20, Pruitt emailed the Little Rock Convention & Visitors Bureau ("LRCVB") re: LITfest. That email went to two Think Rubix emails, Scott Carter, two littlerock.com emails associated with the LRCVB, and…Antwan Phillips.
Here is where the dishonest person might try to defend this and other LRCVB-related email by pointing out that Phillips is one of the commissioners on the Little Rock Advertising and Promotion Commission, which oversees the LRCVB. That, of course, would only be a remotely valid point if any of the other commissioners were also copied on those email, which they were not.
When the LRCVB responded to the May 20 email, Phillips was copied on that response and was included in the people who would schedule a meeting the following week at the LRCVB to discuss LITfest.
When Durwin Lairy of Think Rubix responded to the May 20 emails, Phillips was copied on that as well.
On June 15, Dan Fife of Awakening Events emailed a number of his staff, introducing them to Ally Washington of Think Rubix and mentioning LITfest. In that email, he specifically says, "All meet ALLY. She's organizing an event in LR. This came to us via Antwan etc." (emphasis added)
On June 23, Laura Bayba with the LRCVB sent out a calendar invite for a June 24 meeting about "LRCVB & LITfest – Discussion." It went to four people with the LRCVB, as well as Kendra Pruitt, Scott Carter, and "APhillips@wlj.com."
On June 30, Kasey Summerville of the LRCVB sent an email about scheduling a meeting on July 6 "RE: LRCVB & LITfest – Discussion." It went to three people with the LRCVB, as well as Kendra Pruitt, Scott Carter, Durwin Lairy with Think Rubix, Think Rubix's "Operations" email, and "APhillips@wlj.com."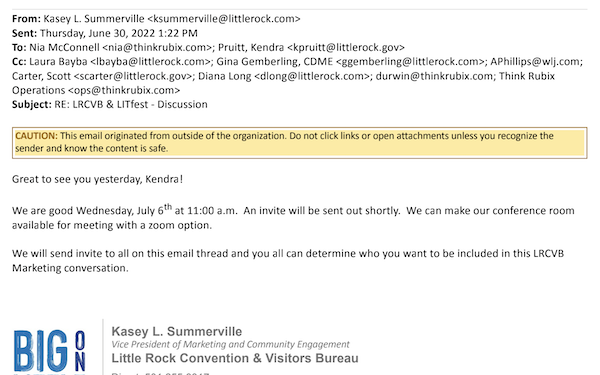 Kendra Pruitt responded to this email the following day, with Phillips still included, to thank everyone for scheduling the meeting. Ms. Summerville sent out a follow-up email a few days later, which included the agenda for the July 6 meeting. Antwan Phillips is specifically listed as an attendee.
Apparently, another meeting was needed two days later on July 8, and it involved Kendra Pruitt, Scott Carter, five people from Think Rubix, Bjorn Simmons from Think Social Impact, and Antwan Phillips. Phillips confirmed his attendance and accepted the calendar invite.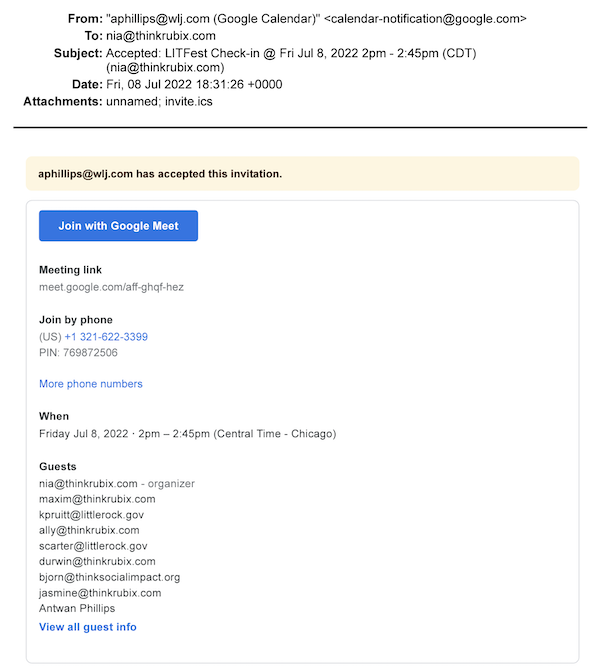 Of all of the emails so far, this one is the most troubling from the perspective of Phillips' involvement. Think Social Impact is the umbrella name/entity that includes the Foundation for Social Impact, which is the unregistered charity that the sponsorship funds were diverted to in order to pay Think Rubix more than the $45,000 face value of the contract. This improper diversion, in violation of the contract between the city and Think Rubix, was one of the major reasons that City Manager Bruce Moore canceled the contract on October 3. That diversion of money is also part of what prompted Vice-Mayor Lance Hines to call for an outside investigation of the entire LITfest debacle.
The fact that City Director Antwan Phillips sat through at least one meeting in mid-July that included a representative of the nonprofit that would receive the sponsorship funds, apparently did not object or raise any concerns about the diversion of those funds to an unregistered charity, and said nothing to any other member of the Board of Directors is nothing less than dereliction of his duties and responsibilities to the city as an elected city director. (We'll come back to this shortly. Onward!)
On July 14, Nia McConnell with Think Rubix sent a message that said Jasmine Ramos (also of Think Rubix) would "follow up with Durwin to engage with Director Phillips to make sure we have a touch point with Benito, Africa Day by next call 7/21."
Why "Director Phillips" would be the one for Durwin Lairy to contact about the Africa Day Festival scheduled for October 10, rather than contacting literally anyone who actually works for the city, is unclear. What is clear is that Antwan Phillips was directly involved in the detailed planning of LITfest at this point.
On July 18, Dan Fife of Awakening Events emailed Ally Washington (Think Rubix) "RE: LIT FEST OCT 7-9 or 14-16 2022." That email was copied to three people with Awakening Events, Durwin Lairy and Nia McConnell of Think Rubix, "Think Rubix Operations," and Antwan Phillips. Kendra Pruitt and Scott Carter, along with literally anyone else representing the city, was omitted.
Curiously, very few emails from August 2022 regarding LITfest were produced by the city or Think Rubix. Whether this means that everyone dropped the ball or just that they are hiding more emails, I can't say. Either seems entirely plausible given what we've seen so far. But the communications ramped back up as the calendar turned to September.
On September 6, Kendra Pruitt sent a disingenuously formal email to Phillips at his work email, pretending like she was inviting him to take part in the event just as she would anyone else, rather than as someone who had been involved in the planning from the start. On September 8, Bjorn Simmons with Think Social Impact/Foundation for Social Impact, emailed Phillips, "Let me know how I can support here," to which Phillips replied "Will do."
Not, "Wait…who are you?" Not, "Why would your non-profit be helping with this?" Just, "Will do." Any suggestion that Antwan Phillips was unaware of the involvement of the Foundation for Social Impact–the unregistered charity that was receiving LITfest sponsorship money–is absolutely false.
But it gets worse.
On September 14, Kendra Pruitt forwarded an email to Durwin Lairy and Antwan Phillips with the attachment "lit_fest_contract.pdf." The original message that Pruitt forwarded read, "Here is a copy of the Booking Contact [sic] for 'Ashanti'. Please see attached file."
That same day, Phillips responded from his work email, offering his "suggested edits" to the contract. The next day, he replied again, writing, "I sent the wrong version. This one has the governing provisions of Arkansas law included. This contract is very bare bones. FYI."
Why in the name of all that is holy was City Director Antwan Phillips reviewing and editing a LITfest-related contract, rather than having the Little Rock City Attorney's Office do that work? Seriously, why? Because, I'll be honest, I can't come up with a reason that is not incredibly shady at best.
Also on September 15, Phillips forwarded to Kendra Pruitt (at her personal email, despite it being 3pm on a Thursday) and Durwin Lairy an email he had sent to Pruitt's work email on September 14. The subject of that email was "RE: Dru Hill Booking Information 'LitFest,'" and Phillips wrote, "This contract with Dru Hill looks standard, but you will need to get with the venue to ensure that the venue can meet these requests. Who is going to 'staff' to ensure that the rider requirements are met?"
September 15 was a particularly busy day for Phillips as far as LITfest planning went. He also sent a message to Think Rubix in response to a request to "pitch a story with the Times or other news outlet," to which Phillips replied:
This is great especially in light of the article today. I would suggest that we "downplay" the event in these statements and release. I think it was suggested a while back that we call this LITfest: the prequel or preview. I think we can start to weave that in the statements.
"Especially in light of the article today" is in reference to Mary Hennigan's Arkansas Blog post in which she pointed out that there was almost no information available about a festival that was, at that point, less than a month away. Meaning, of course, that Phillips was so involved in the planning of LITfest, he was helping with preemptive spin about why there was so little info and trying to help Think Rubix "downplay" what the festival would actually look like. And he was doing all of this without informing any of the other city directors about any of this.
The following day, Kendra Pruitt sent an email to Gina Gemberling at the LRCVB, saying, "I spoke to Director Phillips, and he suggested I forward this question to you." The email included a forwarded message that Pruitt had sent to Phillips, the LRCVB, and two people with Think Rubix on September 15. (Side note: How is it possible, after over two months of meetings with the LRCVB people, that Pruitt still did not know "details for using the Robinson during LITfest"?)
But Pruitt's September 16 email is minor compared to this email from Antwan Phillips to Think Rubix on that same date: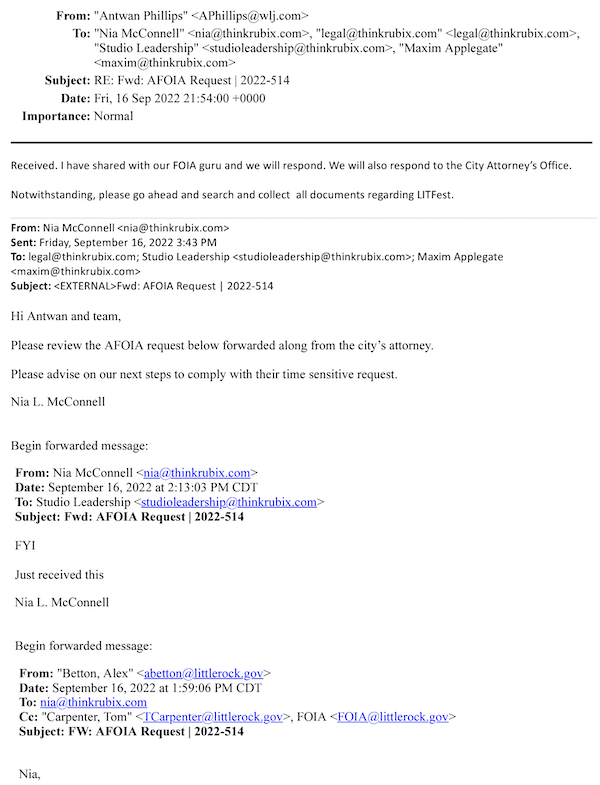 What you have there is the following series of events: Jennifer Brune, FOIA Coordinator for the city, emailed City Attorney Tom Carpenter and Deputy City Attorney (and FOIA Department Head) Alex Betton, noting my 9/15/22 AFOIA request and saying "I've not heard anything about contacting Think Rubix directly for the records." Betton then emailed Nia McConnell at Think Rubix, informing them that they might have records responsive to my request and explaining why they needed to provide the records. Betton's email was at 1:59PM.
At 2:13PM, McConnell forwarded Betton's email to "studioleadership@thinkrubix.com." Ninety minutes later, McConnell forwarded the email to "legal@thinkrubix.com." Phillips was not included by name on that forward. Nevertheless, Phillips replied a few hours later, writing: "Received. I have shared with our FOIA guru and we will respond. We will also respond to the City Attorney's Office. Notwithstanding, please go ahead and search and collect all documents regarding LITfest."
This is where I would have sprayed water all over my computer screen if I'd been taking a drink when I read that email.
Last things first, the "FOIA guru" was apparently Mac Norton. If you've followed along with that whole saga, you're already aware that he's as much of a "FOIA guru" as I am an NBA power forward. The man literally turned over unredacted bank account information, drivers licenses, and other information that absolutely was not subject to release under the AFOIA.
Secondly, and much more importantly, why is City Director Antwan Phillips involved in any way, shape, or form with Think Rubix's production of documents in response to an AFOIA request that was sent to the City?!?
Think about it: if Think Rubix refused to provide documents–which is a position that Mac Norton actually implied they might take–it would have been the city that was sued for the non-production. It would have been the city that was on the hook for the failure to comply, including legal fees after they lost the suit. Antwan Phillips has a duty to act in the best interests of the city by virtue of his position as an elected city director, yet he's acting in the capacity of a lawyer for Think Rubix (an entity that was contracted with the city) and giving them advice re: an AFOIA request? Huh?!
The short answer for why Phillips was involved in this part at all is that Think Rubix is a client of Phillips and Wright, Lindsey & Jennings. But that obviously raises other questions and issues, so keep that on the back burner for a bit longer and let's wrap up these emails with one last red flag.
On September 19, Bjorn Simmons with Think Social Impact (the nonprofit mentioned above) emailed Phillips, asking if Wright, Lindsey & Jennings was "all committed at this time" because the nonprofit "[had them] down for $5,000" and was "happy to move this forward."
Here, again, a person might expect a city director to raise the issue of whether sponsorship money should be going to this unregistered charity when the LITfest contract specifically required the money to go to the city. Instead, Phillips replied the following day: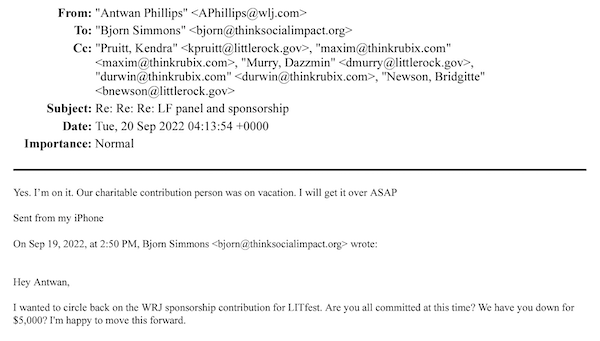 Huh. That's…something.
If you take these emails as a whole, you're left with a very odd picture. City Director Antwan Phillips, whose law firm represents Think Rubix, was involved with the direct planning and contract drafting for a city event while other city directors were intentionally left in the dark. When Phillips' client received an AFOIA request for records regarding LITfest, he forwarded that request to a lawyer of borderline AFOIA understanding at Phillips' firm and said his firm would handle "responding to the city attorney." Then, when a nonprofit owned and managed by his client asked Phillips to have his firm sponsor LITfest by donating to the nonprofit, Phillips went ahead and did so, rather than ever raising the slightest objection to how obviously improper that whole arrangement was.
I would say that whole arrangement stinks, but that would be drastically underselling just how rotten it actually smells.
***
I have mentioned more than once in this post that Think Rubix was Antwan Phillips' client. I realize, you might think I am referring only to his lawyerly role with respect to that AFOIA request. In reality, though, Phillips represented Think Rubix even before they contracted with the city for LITfest.
On January 4, 2021, just a few days after Phillips took office as a city director, Think Rubix, LLC filed a lawsuit in the Eastern District of Arkansas against Be Woke.Vote and a number of other individual defendants. The lead lawyer for Think Rubix on that?

Somewhat curiously, in the initial complaint for that lawsuit, Phillips wrote the following about Think Rubix:

Think Rubix is organized under the laws of the state of Delaware, not Washington D.C. At the time of this complaint, and continuing up through at least last week, Think Rubix was not "authorized to do business…in Arkansas," because they had not formed an Arkansas entity, nor had they registered their Delaware entity as a foreign business in this state.
What even is due diligence, though?
That case was eventually transferred to the Eastern District of California in March 2021, as the defendants that Think Rubix sued were not subject to personal jurisdiction in Arkansas for reasons that are too boring to explain here (but that should have been readily apparent to Phillips at the time of filing). Once in California, Phillips filed a petition to be admitted to the Eastern District of California just for that specific case, which was granted, so he remained the lead attorney on the case out there as well. Not long after the transfer to California, however, the defendants moved for summary judgment, a hearing was held on that motion on January 21 of this year, and the district court granted summary judgment in favor of the defendants on May 31, 2022.
On June 24, Phillips filed a notice of appeal on behalf of Think Rubix, appealing the entry of summary judgment against his client.
That appeal remains pending as of the date of this post. Meaning that, throughout the entire time Phillips was part of the negotiations and planning of LITfest, he was both an elected city director, with a duty to the city, and was the lawyer for Think Rubix, acting in that capacity even when Think Rubix had to respond to an AFOIA request that was sent to the city.
Rule 1.7 of the Arkansas Rules of Professional Conduct states that a lawyer shall not represent a client if the representation involves a concurrent conflict of interest. "A concurrent conflict of interest exists if: […] there is a significant risk that the representation of one or more clients will be materially limited by the lawyer's responsibilities to…a third person." Phillips unquestionably had a responsibility to a third "person" (the City of Little Rock as an entity); at a bare minimum, when the AFOIA request email was forwarded to him, Phillips should have informed Think Rubix that he could not help them or represent them in any way due to the risk of a conflict with the city.
Nor would pawning Think Rubix off on another lawyer at Wright, Lindsey & Jennings necessarily fix this problem. After all, Phillips' reply to Think Rubix says "we will respond," without any suggestion that Phillips himself would be walled off from the matter in an effort to avoid potential conflicts, and he gave them legal advice re: gathering the documents. At a bare minimum, this kind of representation that was potentially adverse to either the city or Think Rubix, gives rise to the appearance of impropriety. And, as Official Comment 37 to the Rules of Professional Conduct explains:
As an integral part of the lawyer's duty to prevent conflict of interests, the lawyer must strive to avoid not only professional impropriety, but also the appearance of impropriety. The duty to avoid the appearance of impropriety is not a mere phrase. It is part of the foundation upon which are built the rules that guide lawyers in their moral and ethical conduct. This obligation should be considered in any instance where a violation of the Rules of Professional Conduct is at issue. The principle pervades these Rules and embodies their spirit.
***
Given this overlap between Antwan Phillips' various roles vis-a-vis the city and Think Rubix, I figured it was worth looking at his 2020 campaign-finance reports to see if they shed any light on anything. As you might have guessed, there were some contributions from two people associated with Think Rubix: $1,000 from Tristan Wilkerson and $125 from Rhonna-Rose Akama-Makia.
Obviously, these are not a big deal in the grand scheme of things. In fact, the only reason I even mentioned them in this post is because of what else I found in his campaign-finance reports:
What you have there are campaign contributions from three businesses, a 501(c)(3) nonprofit, and a campaign account for a candidate in Maryland.
All five of these are illegal contributions.
Under Arkansas Code Annotated section 7-6-203(a)(1)(A), there are six people/entities from which a "candidate for any public office" can accept contributions: (1) an individual; (2) a political party under ACA 7-1-101; (3) a political party under ACA 7-7-205; (4) a county political party committee; (5) a legislative caucus commitee; (6) an approved political action committee. That's it.
You'll notice that the list does not include businesses or other commercial entities. It does not include candidate's campaign accounts. It does not include nonprofits. Under Arkansas Constitution Article 19, section 28(d)(1), "A person who knowingly violates this section is guilty of a Class A misdemeanor."
The good news, at least for Phillips, is that the statute of limitations for an A misdemeanor in Arkansas is one year. Since these contributions were received in 2020, he is fine as far as criminal liability. On the other hand, the statute of limitations for the Arkansas Ethics Commission to investigate a complaint about illegal contributions is four years. So that is still something that is likely to be an issue.
However, the bigger issue here is that Antwan Phillips is a lawyer. He is a partner at one of the most prominent firms in the state. Contributions like the five shown above have been illegal in this state since 2016. Even if he was not aware of the change in the law, he could and should have done the two minutes of research it would have taken to know that he could not take these contributions. He either chose not to look, or he chose not to comply with the law. There is no third option.
Nor should he be able to justify this by hiding behind "this was my first time running for office." Plenty of people have run for office for the first time since 2016. Nearly all of them have managed not to take illegal contributions, and nearly all of them were not lawyers on the side.
Besides, Phillips paid tens of thousands of dollars to consultants like The Design Group for "campaign media management." He couldn't pay a small portion of that to a consultant or campaign manager that would have known what contributions were illegal? He couldn't have walked down the hall at Wright, Lindsey & Jennings and found an "election law guru" that would have known the answer?
Or is this just a case of someone thinking he knows the law well enough to wing it and not run it past someone else? Because that mindset would certainly help to explain a lot, from Phillips' own campaign errors all the way up to the failure of LITfest.
***
If you like what we are doing here and find Blue Hog Report to be a valuable part of Arkansas politics, please consider subscribing to our Patreon page.