A friend passes along this screen shot of erstwhile House candidate and über-part-time Lieutenant Governor Mark Darr making a funny: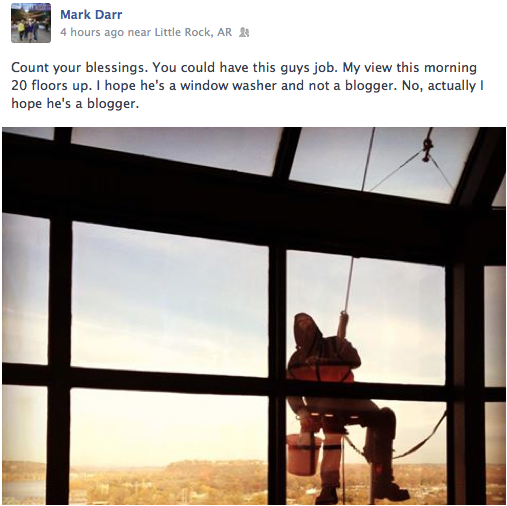 While it's hard to compete with the kind of comic genius that considers "blogger" a punchline, let's see if we can come up with some other options for who that guy might be.
A process server, finally locating the guy who was too cowardly to pick up certified mail.
A state trooper, providing additional pointless security at the Lt. Gov.'s request.
A cryptozoologist, seeking a confirmed sighting of the elusive markdarrian pizzagovernus.
A signalman, communicating for Darr via semaphore now that Darr's cell phone is at issue.
A member of the Ethics Commission, investigating why Darr has still not filed a third-quarter CC&E report.
A private investigator sent by Ms. Darr to keep an eye on Mark when he's away from home.1
An environmentalist, badgering Darr with a "constant barrage of messages…telling [him] to go green."
A window washer who went to work that day without expecting some moron to take his picture and belittle his profession.
Maybe, rather than trying to be witty, Darr could use moments like that to complete and file the amended CC&Es that he promised back in August.