Home
Tags
Medical Marijuana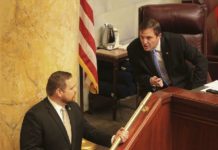 If you're trying to get into the marijuana business in Arkansas, Bob Ballinger and Travis Story have a deal for you!


Idiots, doing idiot things, because they're idiots.


Why is Jason Rapert fighting medical marijuana so hard? Money, of course.


Sen. Jason Rapert wants to prohibit people from smoking medical marijuana, even in their own homes. Let's talk about that.
  Arkansas House Distric...