Home
Tags
Arkansas Ethics Commission
Tag: Arkansas Ethics Commission
The Arkansas Ethics Commission has scheduled a probable-cause hearing regarding the complaint against Gov. Asa Hutchinson campaigning on state time.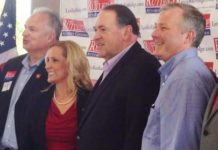 Dennis Milligan can't stop breaking the law. Now Leslie Rutledge is joining in. All for the love of Huck.
The Arkansas Ethics Commission found the safe-harbor provision of the ethics laws applicable to only a small handful of the allegations, and a hearing will be held on the remaining claims.
A rundown of why I filed an Ethics Complaint against Leslie Rutledge regarding her campaign ad.
Last Friday, shortly afte...