Home
Tags
Arkansas Ethics Commission
Tag: Arkansas Ethics Commission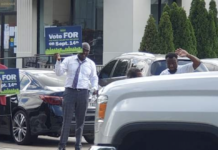 This pretty much had to happen with as bad as those reports were.
Bob Ballinger's wife tried to brush aside the post about his campaign spending. So we replied with seven questions for her.
The Commission will look into Gray's failure to file two campaign reports as well as an apparent personal use of campaign funds.
As previously mentioned ...
Now that the Ethics Commission is investigating a campaign-finance violations, can Gov. Asa Hutchinson simply amend his CC&E to avoid problems? (The answer should be "no.")
Hutchinson took two too many maximum contributions from an individual donor. The Ethics Commission will get a chance to review it now.