By now, assuming you pay even passing attention to Arkansas politics, you have heard about Sen. Bart Hester (R-Cave Springs) and his ridiculous Tweet about the University of Arkansas-Little Rock's billboard.
Says the "Real Estate and Construction" professional about which college majors are important: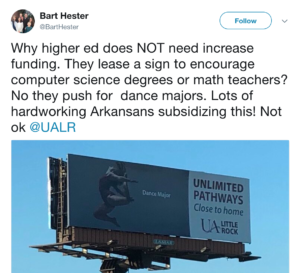 As you would (hopefully) expect, the responses to his tweet have been less-than-sympathetic to his position (notwithstanding some bubble-headed jackwagonery from Rep. Bob Ballinger (R-Ecclesia College)), both in the direct responses and on other social media. My personal favorite response, for what it's worth, has been this one from Amy Kelley Bell:
Someone else who does not agree with Bart Hester?
Microsoft president Brad Smith and Microsoft executive vice president of artificial intelligence and research Harry Shum. According to Smith and Shum (emphases added):
All of this leads us to what may be one of the most important conclusions of all. We're reminded of something that Steve Jobs famously talked about repeatedly: he always sought to work at the intersection of engineering and the liberal arts.

One of us grew up learning computer science and the other started in the liberal arts. Having worked together for many years at Microsoft, it's clear to both of us that it will be even more important to connect these fields in the future.

At one level, AI will require that even more people specialize in digital skills and data science. But skilling-up for an AI-powered world involves more than science, technology, engineering, and math. As computers behave more like humans, the social sciences and humanities will become even more important. Languages, art, history, economics, ethics, philosophy, psychology and human development courses can teach critical, philosophical and ethics-based skills that will be instrumental in the development and management of AI solutions. If AI is to reach its potential in serving humans, then every engineer will need to learn more about the liberal arts and every liberal arts major will need to learn more about engineering.

We're all going to need to spend more time talking with, listening to, and learning from each other. As two people from different disciplines who've benefited from doing just that, we appreciate firsthand the valuable and even enjoyable opportunities this can create.
You can read the entire Smith and Shum foreword to the new Microsoft book here.



I think it is safe to assume that Smith and Shum know roughly infinitely more about building and running a company that relies on STEM majors than Bart Hester does. Unfortunately for Arkansas, I think it is equally safe to assume that Bart Hester would rather continue spouting inane nonsense than listen to people who actually know something about the subject.
After all, when you can get a luminary statesman and thinker Bob Ballinger chiming in to agree with you, why would you care if your position was literally the exact opposite of reality?