Home
Tags
Ethics Commission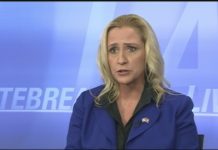 The Ethics Commission will investigate whether Leslie Rutledge violated the law by accepting a contribution from an unapproved PAC.
Republican Attorneys General Association Arkansas PAC gave Leslie Rutledge, who chairs RAGA, $2700. There was just one problem with that.
Ethics Commission's twenty-four-page letter details numerous possible violations that are being investigated.
If you had been checking ...
When is a fundraiser not a fundraiser? When it comes time for Jason Rapert to report it on his 10-day pre-election campaign-finance report.
Leslie Rutledge said her coordination with an outside group was legal. The Ethics Commission apparently does not think the answer is so clear-cut.