Home
Tags
Abuse of Office
Either Mark Martin has found a way to bend the space-time continuum or he is pretending to be at the Capitol, rather than actually being there.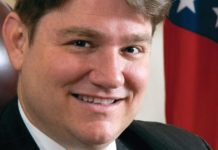 Mark Martin is running both for Secretary of State and for Hypocrite of the Year. Recent polling puts him at 95% on the latter.
Despite how Mark Darr "views" his elected office, it is not a part-time job. Unless you think part-time jobs in Arkansas pay $41k per year, have four full-time employees working under them, and receive nearly as much in operating and travel funds as full-time positions.