Tommy Branch Jr. is a candidate for the Board of the Little Rock School District for Zone 31. A couple of weeks ago, he qualified for a runoff after finishing first in a very close four-way race for that seat.
About seven weeks before that, however, Branch was driving home from Hot Springs around 3AM when an Arkansas State Police Trooper saw him driving at a high rate of speed on the interstate, before exiting and swerving all over the place while heading east Stagecoach Rd. Shortly before reaching David O. Dodd Rd.,2 Trooper Anthony Worn pulled Branch over, and…well, let's go to the video on it:
For those of you unable to watch the video at the moment, a quick rundown of the highlights and key quotes:
0:07–0:52 – Branch swerves over the outside line at least three times
0:59 – Trooper Worn activates his lights and pulls Branch over
1:53 – Worn approaches the driver's side window and starts talking to Branch, asking, "You having issues driving tonight?"
2:11 – Worn: "Here's the issue — you're running up on me with your bright lights and your flashers on like you're fixin' to run into the back of me, then you're slowing back down. What's the issue?"
2:25–2:40 – Branch has trouble putting the car in park and shutting it off
2:53 – Out of the car, Branch is asked how much he has had to drink. He replies, "nothing." "At all?" "No, sir."
3:42 – Branch says he was driving home from Hot Springs and says the car is a rental3
4:31 – Worn tries to administer the portable breathalyzer test,4 but Branch inhales instead of blowing into it, likely due to the combination of poorly worded instructions and (spoiler) being very drunk
4:40 – Second attempt at the portable breathalyzer, Branch inhales through the straw, then briefly exhales, then inhales again; Worn gets agitated and says, "I'm not going to sit out here and play games with you"
5:05 – Third attempt at the test, Branch blows into the straw, but not hard enough; Worn is more visibly annoyed
5:38 – Fourth test is successful, at least in terms of getting a result, and Branch registers a .162 blood-alcohol level, over twice the legal limit of .08
6:03 – Branch is placed under arrest, asks if he can use the restroom
6:48 – Branch again asks to use the restroom, says he has to go "real bad," and Worn says he is not going to let Branch urinate by the side of the road with cars passing
7:29 – Worn: "K, so you just pissed right there?" Branch: "I had to use the restroom, bro." Worn: "Now you're gonna get that all over my car."
7:39 – Worn: "Here's what you're gonna do–you're gonna stand here and let that air out, because you're not getting in my car with all that piss on you. […] You got piss all down your leg."
Branch's roadside breath test was administered around 3:20AM according to police documents. At 4:13AM, while being booked on the charges of driving while intoxicated and carless-and-imprudent driving, Branch was given another test and blew a .18. It is a very safe assumption that, from wherever he was in Hot Springs to the point where he was arrested, Branch was behind the wheel of that rented Ford Expedition with a BAC well over the legal limit, for at least forty-five minutes. Even when he was off of the interstate and going more slowly on Stagecoach, Branch was unable to stay in his lane. He was so drunk that, fewer than eight minutes after being stopped, he managed to urinate on himself.
All things considered, it is borderline amazing that Branch made it all the way to the point where he was stopped without either wrecking his own vehicle or, worse, hitting someone else.
What really jumped out at me about the video, though, was seeing him drive past a school in the zone he hopes to represent, less than two months prior to the election for that school-board seat, and knowing that he was absolutely hammered at the time.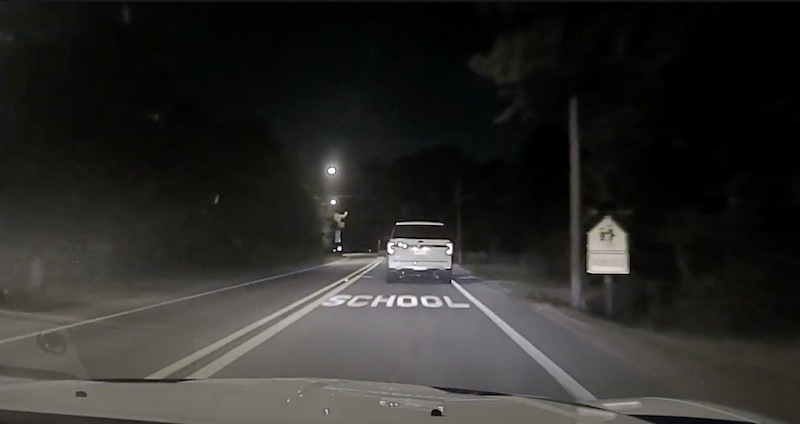 None of the writers for Blue Hog Report lives in Zone 3, but two of us do have children in the district generally, so we have a vested interest in ensuring that whomever is elected is the type of person who makes good decisions, both as to his own behavior and for the health and safety of others. Based on what we've seen here, Tommy Branch Jr. does not come close to meeting that criteria.