Telling multiple lies to avoid providing public records? Not a good look, especially when those records show up.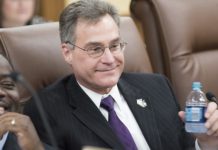 If Charlie Collins wants to build a "Good Jobs Magnet" in this state, he would do well to push for the kinds of things you find in -- wait for it -- more liberal cities.
Rep. Charlie Collins keeps claiming that he's turned Arkansas into a "Good Jobs Magnet." He's wrong, as even his supposed "proof" demonstrates.
Could the Arkansas Secretary of State really have taken double homestead tax credits for the last 6+ years? Yup. Mark Martin loves him some "free" money.
When I wrote the last pos...