Home
Tags
Sen. Trent Garner
Trent Garner's timesheets compound the problems created by his illegally taking a public-defender job.
Hiring Trent Garner to a position he couldn't legally hold was only the start of the APDC's screw-ups.
Trent Garner may have resigned his illegal public defender position, but this story is just getting started.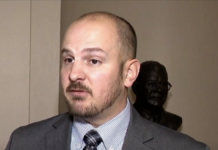 Trent Garner has taken a state job that is prohibited under state law. That's problematic at best.
Remember Trent Garner's lie about stopping a mugging? Even the details he made up don't make sense.
We located where Trent Garner's mugging story took place, and the records sure don't seem to match his version.