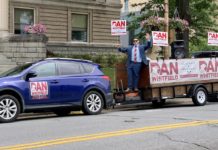 Dan lied to Twitter about "private information," so we went ahead and took a look at what all information was actually public.
What kind of weirdo lies about things that are subject to the AFOIA? (You know the answer.)
How dumb do you have to be to get banned from Wikipedia? Let's ask Dan.
Why would a campaign on life support spend nearly $6000 on video equipment from August 1 to now?
One thing Tom Cotton and Dan Whitfield have in common: A history of racist comments about President Obama.
Dan Whitfield used his Capitol View interview to spew lies and misleading statements rather than actually answering questions.