Lying repeatedly to avoid service of process for a defamation lawsuit was working for Laurie Rushing...until she ran her mouth on Facebook. Now we can all try to figure out where the heck she actually lives.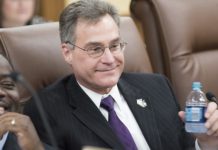 If Charlie Collins wants to build a "Good Jobs Magnet" in this state, he would do well to push for the kinds of things you find in -- wait for it -- more liberal cities.
Rep. Charlie Collins keeps claiming that he's turned Arkansas into a "Good Jobs Magnet." He's wrong, as even his supposed "proof" demonstrates.
The Arkansas Legislature decided that no business that boycotts Israel can contract with Arkansas. Thank goodness THAT crisis was averted.
Now that we know he's a felon, it is less surprising that Micah Neal lied to get Joseph Wood on the ballot.
Three Arkansas representatives waited until after the election to switch parties. Because that's what cowards do.